As unconventional as ever Uber don't seem to understand what a consultation is.
Now they are asking drivers to send begging letters to TFL claiming that not only do they have Job (This implies Uber employ them.) but prior to Uber no one ever manage to get around.
Are they deluded?
Also when did TFL revert to being called the PCO??
You think they would know that at least.
Uber seem to be under the impression that they serve some purpose that others do not and that the claim's they have added are preposterous.
A consultation is a consultation not a letter writing invitation.
However we will draft a letter template in the next few days inviting PHV and Taxi to write in Too if Uber thinks it is sooo cool.
Anyway the email is below as well as a Screenshot from their app.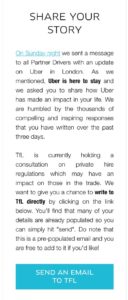 To: Steve GMB Pro
Subject: Fwd: Private Hire Regulations Review
Uber has draft an email for all drivers to send to tfl…
Begin forwarded message:
From: XXXXXXXXXXXXXXXXXXXXXX
Date: 10 June 2015 XXXXXXX BST
To: XXXXXXXXXXXXXXXXXXXX
Subject: Private Hire Regulations Review
To whom it may concern,
I am a licensed private hire vehicle driver – my PCO licence number is XXXXX. I drive for Uber and I am responding to this consultation to show my support for the company. Uber brings huge benefits to London: improving mobility, helping to reduce congestion and emissions, and bringing new opportunities for people like me to work throughout London. The service I provide gives Londoners quick and affordable access to safe transport, gives drivers more flexibility in how we work, and gives me the confidence that I can provide for my family.
Reducing people's reliance on private cars means Uber helps reduce the total number of cars on the road. And, as most of the cars on the Uber platform are hybrid, lowers CO2 emissions and improves air quality.
Uber works with over 15,000 drivers in London and over 20,000 in cities across the country. Uber has benefitted me through offering me flexible work, something I value greatly.
As an Uber partner-driver, the constant comments about Uber in the press and by politicians worry me. I rely on Uber and anything done to change things unnecessarily and without proper consideration of its potential impact will mean I have a harder time making money to provide for those I love and care about.
I also support keeping the standard of Private Hire drivers high.
I hope that TfL takes the drivers' views into account when deciding on the future of our trade. Please consider the benefits Uber – and similar platforms – bring to the capital, the thousands of people who rely on Uber for a job and the millions of people who count on the affordable and convenient service we provide every day.
Thanks for your time.
XXXXXX XXXXXXXXXX
Posted: 10th June 2015